I love to read a variety of genres, but I am most drawn to books that place primacy on feminist topics. These types of books contribute to my consciousness-raising process by enabling me to understand the unique challenges that other women face in life, broadening the lens through which I view the world. Here are five women-themed books you may enjoy as well!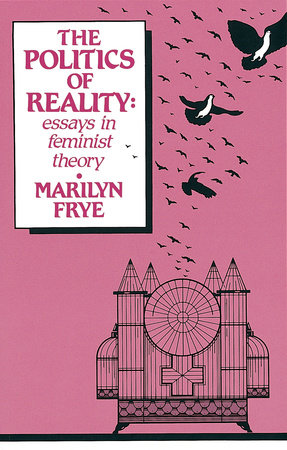 The book is filled with numerous other important insights regarding the condition of women, making it an excellent work for feminists seeking more understanding about how sexism works and what can be done about it.
I am a huge fan of second wave feminism because of the emphasis on defining rape culture, condemning objectification, and challenging the sex/gender system that created limited social roles for women. As such, I tend to gravitate towards women writers who maintain this type of anti-establishment, revolutionary stance. Marilyn Frye is one such writer. In this book, she provides an intense, thorough critique of patriarchy and the profoundly negative impact it has on women's identity and experience.
In The Politics of Reality, Frye notes that systems of oppression create a world in which the oppressed experience "the double bind-situations in which options are reduced to a very few and all of them expose one to penalty, censure or deprivation" (2). To provide an example of this double bind, Frye notes that "It is common in the United States that women, especially younger women, are in a bind where neither sexual activity nor sexual inactivity is all right" (3).
Women seeking more insights on how the transgender movement will impact the feminist movement need to read this book.
I just finished this anthology and can't stop raving about it. While numerous topics are discussed throughout the work, the rise of transgenderism is a central theme in many if not most of the essays. In describing this issue, Ruth Barrett notes that "If your gender doesn't match your body, you are now invited or pressured to modify your body to match your "gender"" ("Eve Was "Framed,"" 191).
One issue that surfaces when men transgender to women through the use of hormones or surgical treatment is whether these individuals should be allowed in women-only spaces. Another challenge is that feminist events such as Eve Ensler's The Vagina Monologues are viewed as non-inclusive on the grounds that they don't represent the experiences and perspectives of "women without vaginas." These issues raise many questions, including whether we should define the term "woman" in context of a biologically female body or the individual's perception of self as female despite being born in a biologically male body.
Carrie by Stephen King
The book is meaningful and enlightening to feminist readers for numerous reasons, including the fact that it offers a unique lens through which to understand the role that patriarchal spirituality plays in demonizing the female body.
I read this book for a Gender and Text course I took while completing my Master's degree. It is an incredible work that provides readers with a unique, fictionalized representation of how social realities such as peer pressure and religious ideologies can do deep damage to the female psyche. The central character Carrie White lives with a mother who practices a form of Christianity that demonizes women, defining menstruation, intercourse, and childbearing as sins. Her mother places severe restrictions on Carrie's social life such that the young girl is isolated from her peers and viewed as a religious nut.
Although represented as a relatively timid teenager, Carrie eventually grows irritated and angry when her mother's religious extremism prevents her from developing healthy relationships with the boys and girls in her local high school. She also finds herself furious regarding the ongoing ridicule she is subjected to by her peers. To retaliate, Carrie uses telekinetic power against both her mother and the larger community.
This book provides feminist readers with a new context in which to examine key issues such as women's reproductive rights and the importance of economic freedom. The innovative, colloquial prose also makes reading it both personally pleasurable and politically valuable.
Fair and Tender documents the fictional experiences of central character Ivy Rowe. The entire narrative is conveyed through letter writing, and this epistolary form gives the story a very personal, individualistic flair. I love the work because it provides detailed accounts of numerous experiences that can alter a woman's sense of self and way of relating to others in the social world. Rowe covers everything from deciding whether to abort her child to discussing how poverty compromised her ability to attain a good education.
The book is a fascinating read for its representation of the role society plays in policing the female mind and body.
While I typically loathe love stories, this book is a rare exception to the rule. In this work, Marquez tells the story of Florentino Ariza and Fermina Daza. After falling passionately in love during youth, the pair are separated by various life circumstances but reconcile as older adults. The aspect of the narrative I was drawn to pertains to the unique challenges that Fermina Daza experiences in trying to maintain her sense of self within a profoundly patriarchal culture. The reality of this challenge becomes plain when her mode of walking is compared to that of "a woman of the streets" (107). Fermina is also criticized for breast-feeding in public and dressing "as if she were in the circus" (107). In terms of domesticity, Fermina finds herself reproached for serving cakes and candied flowers that might be considered "remedies for sweating out a fever" (207).
Reading is one of the most important and effective consciousness-raising activities that you can do. And if you're a feminist, reading literature that addresses issues specific to women is not optional. It is imperative. If you're looking for new books to add to your feminist reading list, be sure to refer to the works I've listed here!
---
Jocelyn Crawley is a radical feminist who found feminism in her late 20s. She has published several works on a wide range of feminist topics, including rape culture, gender identity, feminist literature, and misogynist music lyrics. Her favorite feminist books are Toni Morrison's The Bluest Eye and Margaret Atwood's The Handmaid's Tale. In addition to volunteering with awesome organizations such as LiveYourDream.org, she enjoys doing yoga and sipping coffee while having great conversations with friends. Her objective for 2019 is working at the local level with other radical feminists to develop strategies for resistance to rape.